U24-D Tritium Monitor Control Chassis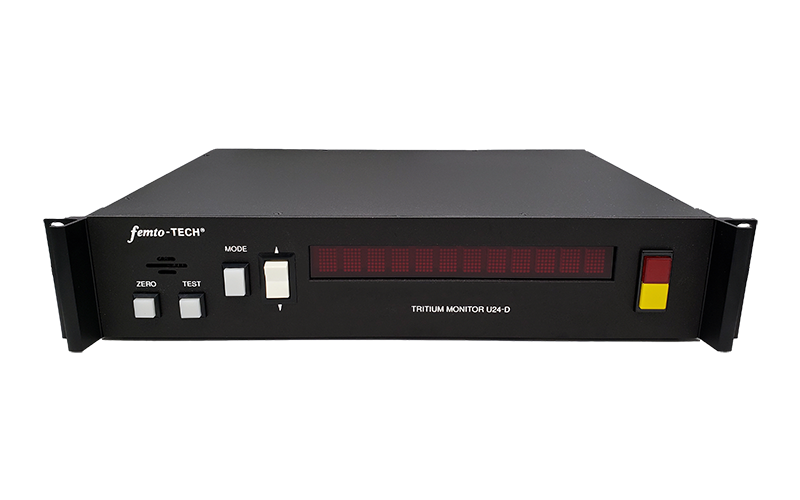 The U24-D Tritium Monitor Control Chassis
Premium instrumentation at a fair price
femto-TECH has been widely regarded as an industry standard for tritium measurement & detection since the early 80's. The U24-D is a precision airborne beta radiation detection instrument that serves as a universal controller for our various sensing chamber offerings. The user can select between Glove Box, Room Monitor, Duct Monitor, Parallel Plate, and other custom configurations. Please see our Chambers page for more details.
The intrinsic calibration of the ion chamber used in a U24-D system is established by the physical size and geometry of the ion chamber being used and the value of the feedback resistor (high-meg). The National Institute of Standards and Technology (NIST) traceable tritium gas standards have been used to verify the electronic calibration factor for these types of ion chambers. Production ion chambers maintain the same parameters as those that have been calibrated with the tritium gas standard, therefore, the production ion chambers have the same intrinsic calibration. The feedback resistor of each production unit is measured once by the supplier of the resistors and a second time at femto-TECH. NIST traceable resistor standards and voltmeters are used to perform this measurement. A built-in electronic calibration adjustment provides field adjustment and calibration verification of all electronic components back to the feedback resistor. Field calibration checks can also be performed using a fixed geometry gamma source to provide a known amount of ionization in the ion chamber.
Features:
Over 7 decades on two ranges (Auto range change)
Universally compatible with all femto-TECH chambers
Chassis and chamber can be seperated up to 1000 ft.
Greater than 10% accuracy (linear without correction)
Direct reading in µCi/m³ (or 0.1 µCi/m³) or Bq/m³
Display readable from 50 ft. (15 meters)
Electronic zero check from front panel
Instrument test (current injection) from front panel
Electronics temp. stable to ±1 µCi/m³ | 0 °C TO 50 °C
Stability within ±1 LSD | 0% to 95% R.H.
No seals or drying tubes required for electrometer
Low voltage ion chamber (24 VDC)
Two front panel adjustable audio/visual alarms
Remote outputs of tritium concentration and alarms
Specifications
Power
100 to 125 VAC, 50 to 60 Hz (built-in filter), factory settable for 200 to 240 VAC
Fusing
2 Amp line fuse in power entry module
Display
Custom 12 digit red LED matrix display readable at 50 feet (15.2 meter)
Mode Control
Mode and increment/decrement buttons provide the ability to select high and low alarm set points, zero offset, and gamma compensation level.
Zero Check
Electronic zero test - push button with display on front
Zero Adjust
Electronic zero adjust - push button switch plus zero adjust and digital panel meter display. To be performed with Zero Check.
Instrument Test
Functional check of entire electrometer, signal conditioning and readout electronics. Push button switch activated and display of 13000 ±390 µCi/m³.
access_alarmAlarms
Two audio/visual alarms with acknowledge and automatic reset. Set points are independent and adjustable throughout both ranges.
Alarm Lockout
Automatic 90 second alarm lockout on power up and zero .
Outputs
Linear (or logarithmic optional) output proportional to tritium concentration, range indicator, high and low alarm indicators, and U24-D fault indicator, relay contacts for each alarm
Data Storage
All instrument settings (alarm settings, offset, etc.) retained in EEPROM.
Communications
Serial interface compliant with RS-232C and RS-422 standards. Data is tritium concentration in ASCII format (1200 or 9600 selectable baud rate).
Installation
The ion chamber and control unit can be located up to 1000 feet (305m) apart without degradation of signal. The U24-D can be located up to 4000 feet (1219m) from the data acquisition system or TRI-1 Tritium Remote Interface.
Dimensions
U24-D alone is 3.5" (8.9cm) high x 16.75" (42.54cm) wide (19" (48.26cm) with rack mount hardware) x 12" (30.48cm) deep.
Weight
12 lbs.(5.5 kg.), 20 lbs.(9.1 kg.) shipping
Amphenol 14-pin connector MS3102A-20-27S (Mates to cable connector MS3106A-20-27P)
Outputs
A
Tritium Concentration Analog Output (0-2 VDC, 0-5 VDC, 0-10 VDC)
B
Common
C
Range Indicator (0 VDC = range 1, 5, 12, or 24 VDC = range 2)
D
Fault Indicator (0 VDC = no fault, 5, 12, or 24 VDC = fault) Fault is an excessive negative reading
E
Common
F
+5 VDC
G
+12 VDC
H
+24 VDC
Alarms
| I | Alarm 1 Common | POWER OFF | NO ALARM | ALARM ACTIVE |
| --- | --- | --- | --- | --- |
| J | Alarm 1 N/O Contact | OPEN | CLOSED | OPEN |
| K | Alarm 1 N/C Contact | CLOSED | OPEN | CLOSED |
| L | Alarm 2 Common | POWER OFF | NO ALARM | ALARM ACTIVE |
| M | Alarm 2 N/O Contact | OPEN | CLOSED | OPEN |
| N | Alarm 2 N/C Contact | CLOSED | OPEN | CLOSED |
Related items
TRI-1
Remote Interface for U24-D
Government Affiliates
United State of America
---
United States of America
---
United State of America
Contact Us
25 Eagle Court,
Carlisle, OH 45005
Phone: (+937) 746-4427
Fax: (+937) 746-9134
Mon - Thurs | 8am - 4pm
Friday | 8am - 3pm