Accessories
Home /
Tritium /

Accessories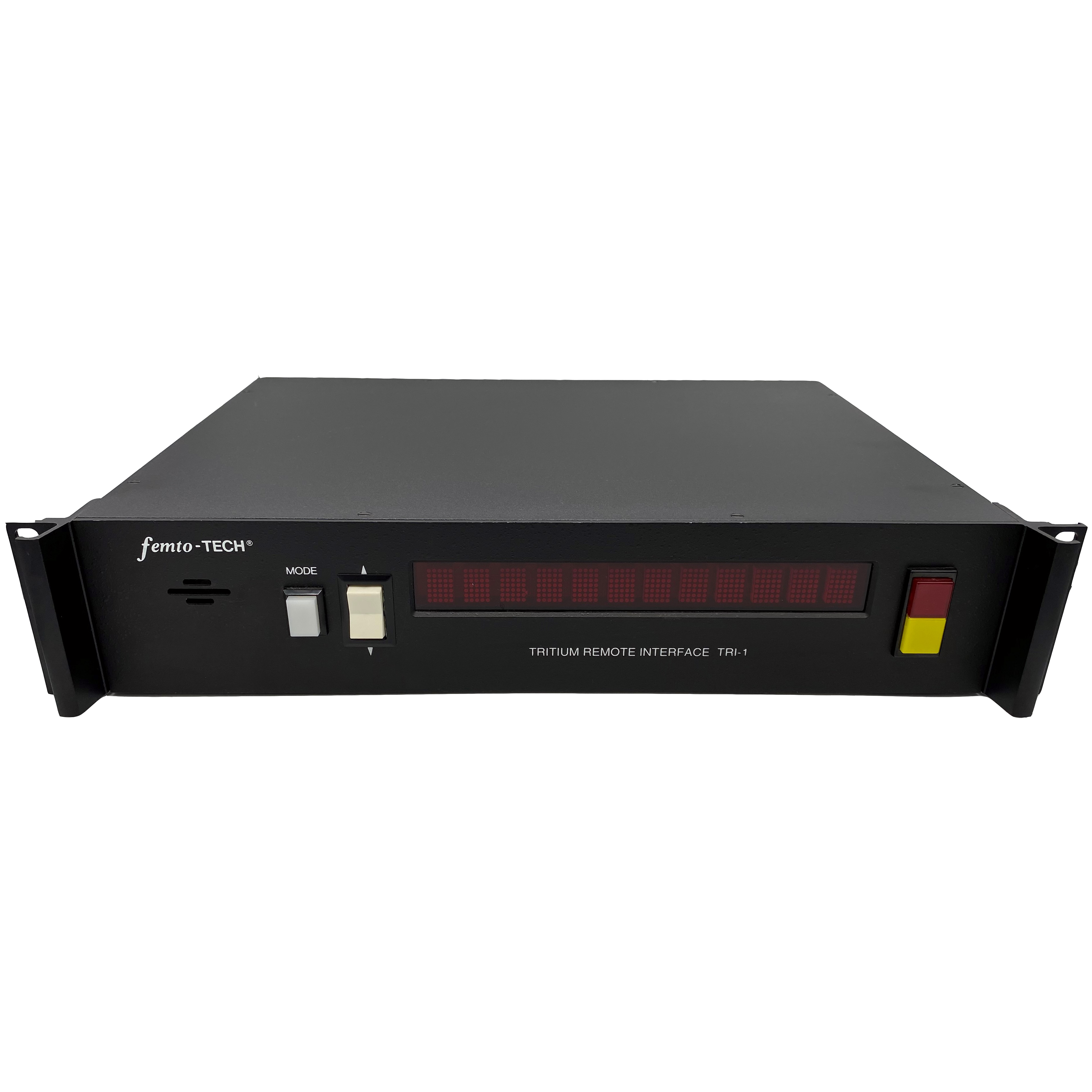 TRI-1 Remote
Digital remote readout w/ alarms for U24-D
Specifications
Power
100 to 125 VAC, 50 to 60 Hz (built-in filter), factory settable for 200 to 240 VAC.
Fusing
2 Amp line fuse in power entry module.
Display
Custom 12 digit red LED matrix display readable at 50 feet (15.2 meter).
access_alarmAlarms
Two audio/visual alarms with acknowledge and automatic reset. Set points are independent and adjustable throughout both ranges.
Alarm Lockout
Automatic 90 second alarm lockout on power up and zero.
Outputs
Linear (or logarithmic optional) output proportional to tritium concentration, range indicator, high and low alarm indicators, fault indicator, & optional logarithmic output.
Data Storage
All instrument settings (alarm settings, offset, etc.) retained in EEPROM.
Dimensions
TRI-1 alone is 3.5" (8.9cm) high x 16.75" (42.54cm) wide (19" (48.26cm) with rack mount hardware) x 12" (30.48cm) deep.
Weight
12 lbs.(5.5 kg.), 20 lbs.(9.1 kg.) shipping
The femto-TECH TRI-1 digital remote allows the user to remotely monitor systems that are in hard to reach areas. The TRI-1 includes functionalites similar to it's parent U24-D system, including but not limited to two audio/visual alarms that can be set independent of the parent device, as well as outputs for remote data collection and logging.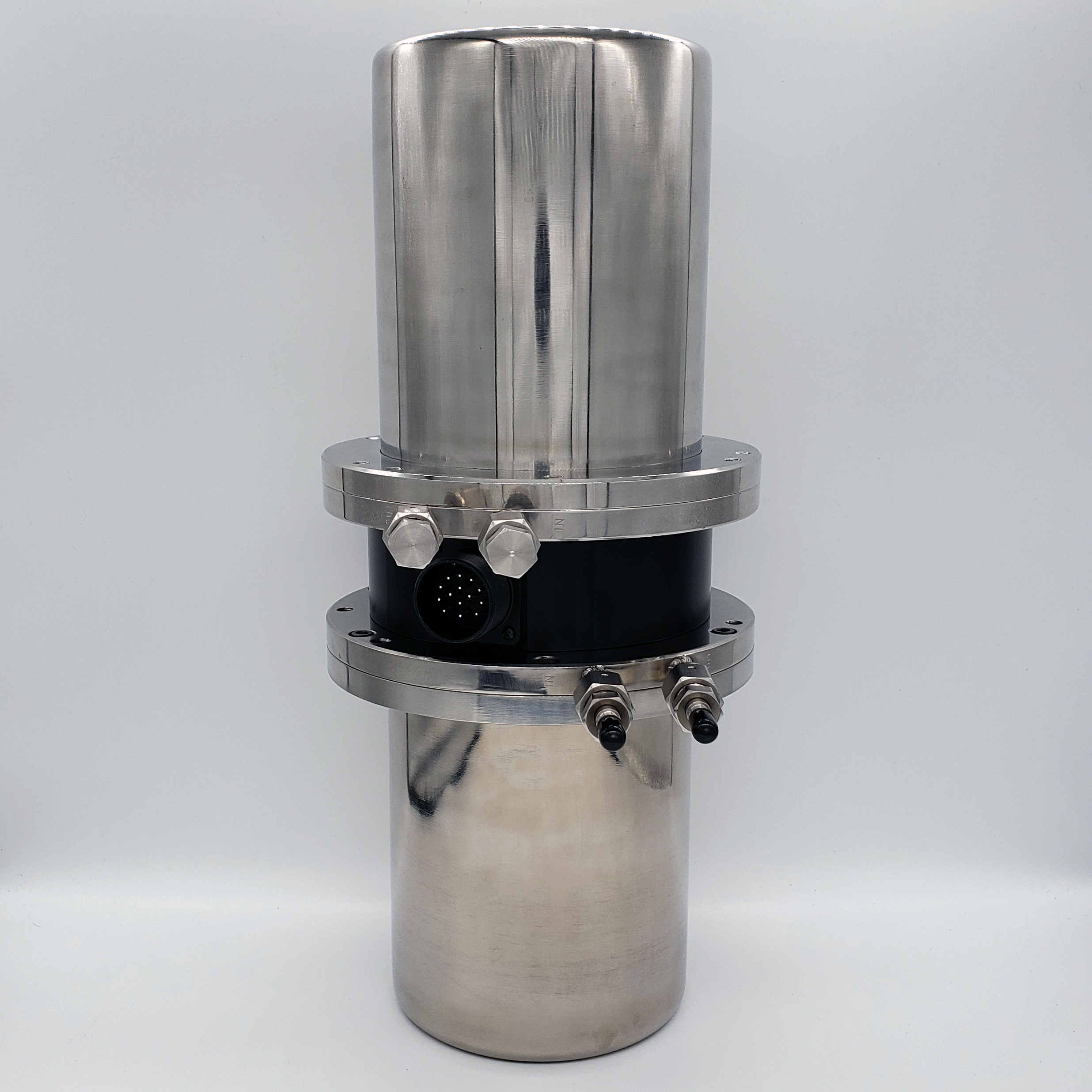 Active Gamma Comp.
Gamma compensation for 224x chambers
Specifications
Gamma chamber will match specs identical to chamber it is compensating for
The femto-TECH Active Gamma Compensation Chamber is designed to be paired with comparable femto-TECH 224x chambers. The gamma compensation chamber is mounted on top of the chamber it is compensating for, and actively offsets any gamma radiation it detects from it's paired chamber's readings. The gamma compensation chamber can be deactivated at any time via a switch on the electrometer housing.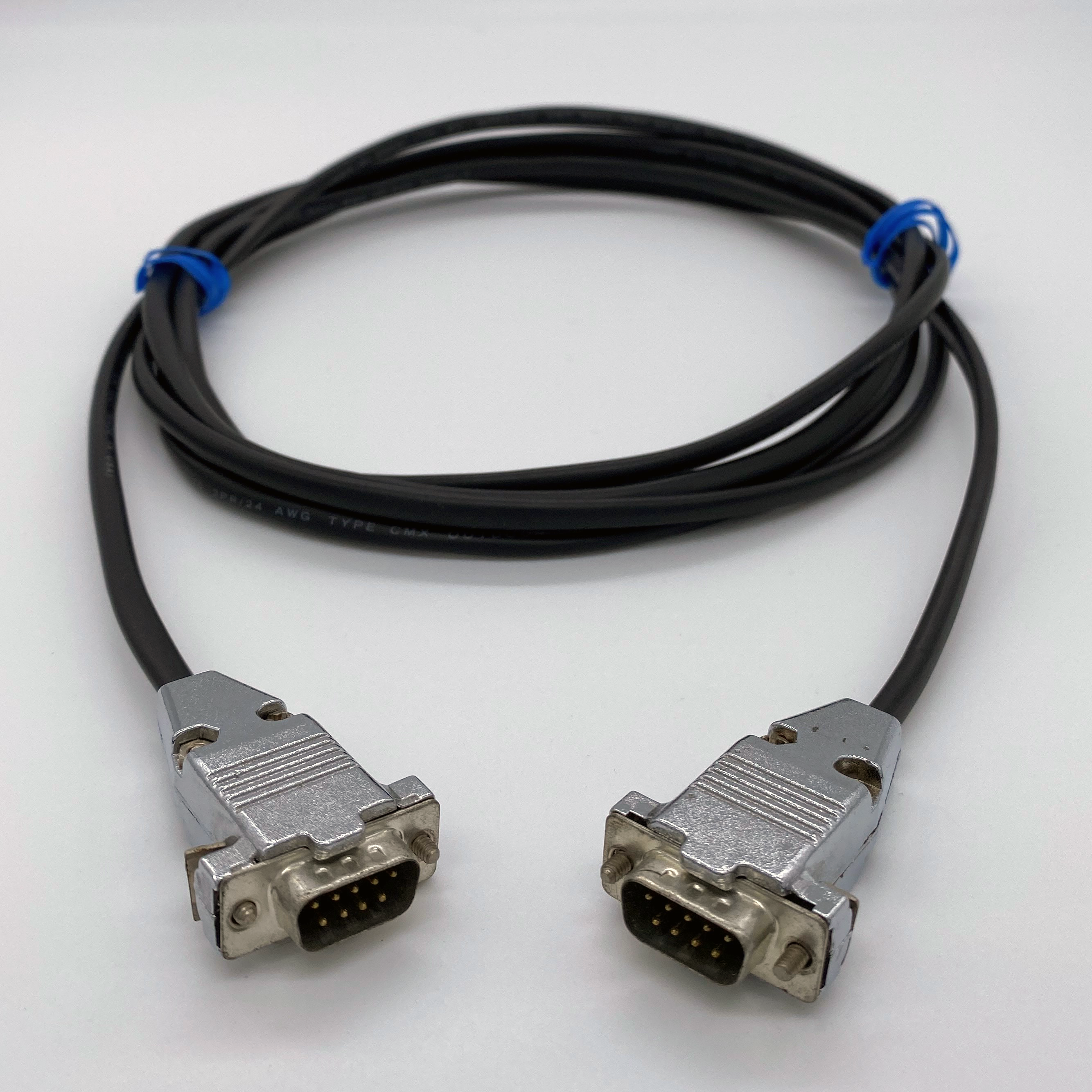 TRI-1 Interface Cable
For connection between U24-D & TRI-1
Specifications
Length
50ft. ($3.00 per each additional foot)
Max Length
1000ft. (305m.)
Width
.25" (6.35mm)
This cable is required to connect a femto-TECH TRI-1 remote to a femto-TECH U24-D chassis.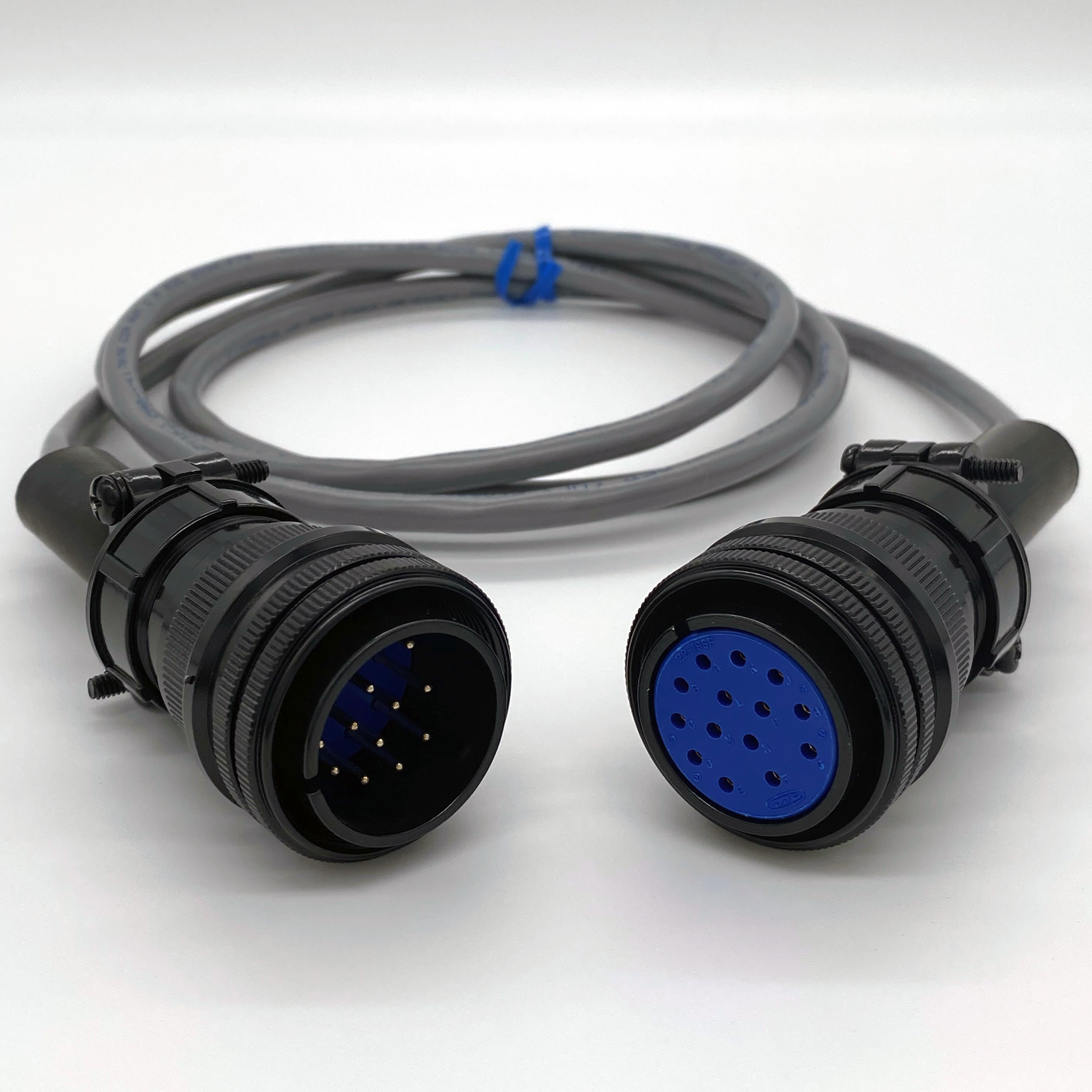 Ion Chamber Cable
Connection between U24-D and chamber
Specifications
Length
6 ft.
Additional Length
$3 / additional ft.
Supports
U24-D
6' included with purchase of U24-D system.
This heavy-duty cable is used to connect femto-TECH ion chambers to a U24-D control chassis. Each U24-D system comes with a 6ft. cable. Custom lengths are also available up to 1000ft.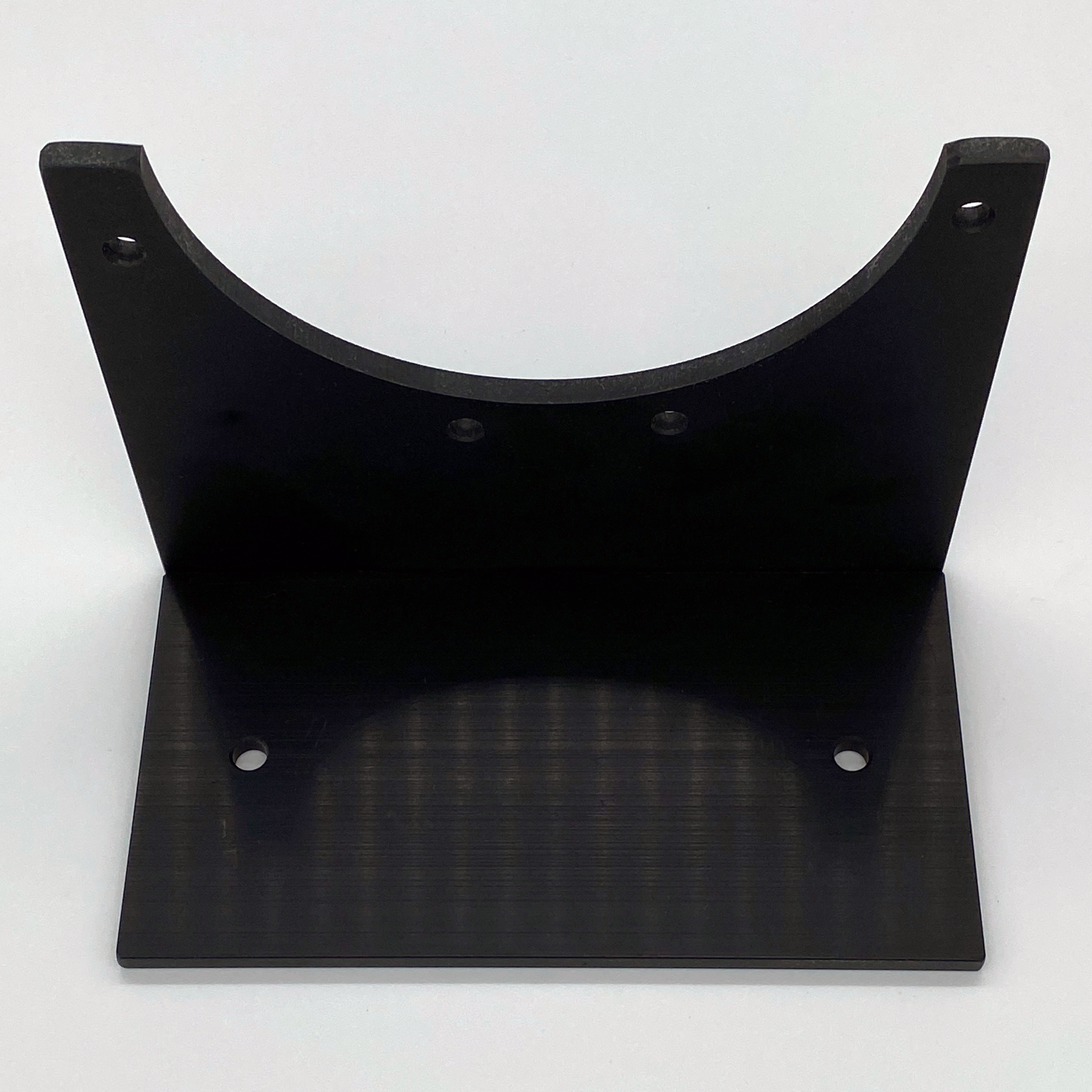 Chamber Mount Assembly
For wall-mounting ion chambers
Specifications
Material
Black anodized steel
Supports
224x series ion chambers
The femto-TECH chamber mount assembly allows the user to mount 224x chambers to a vertical surface. The assembly is made of anodized steel and bolts directly onto the 224x chamber.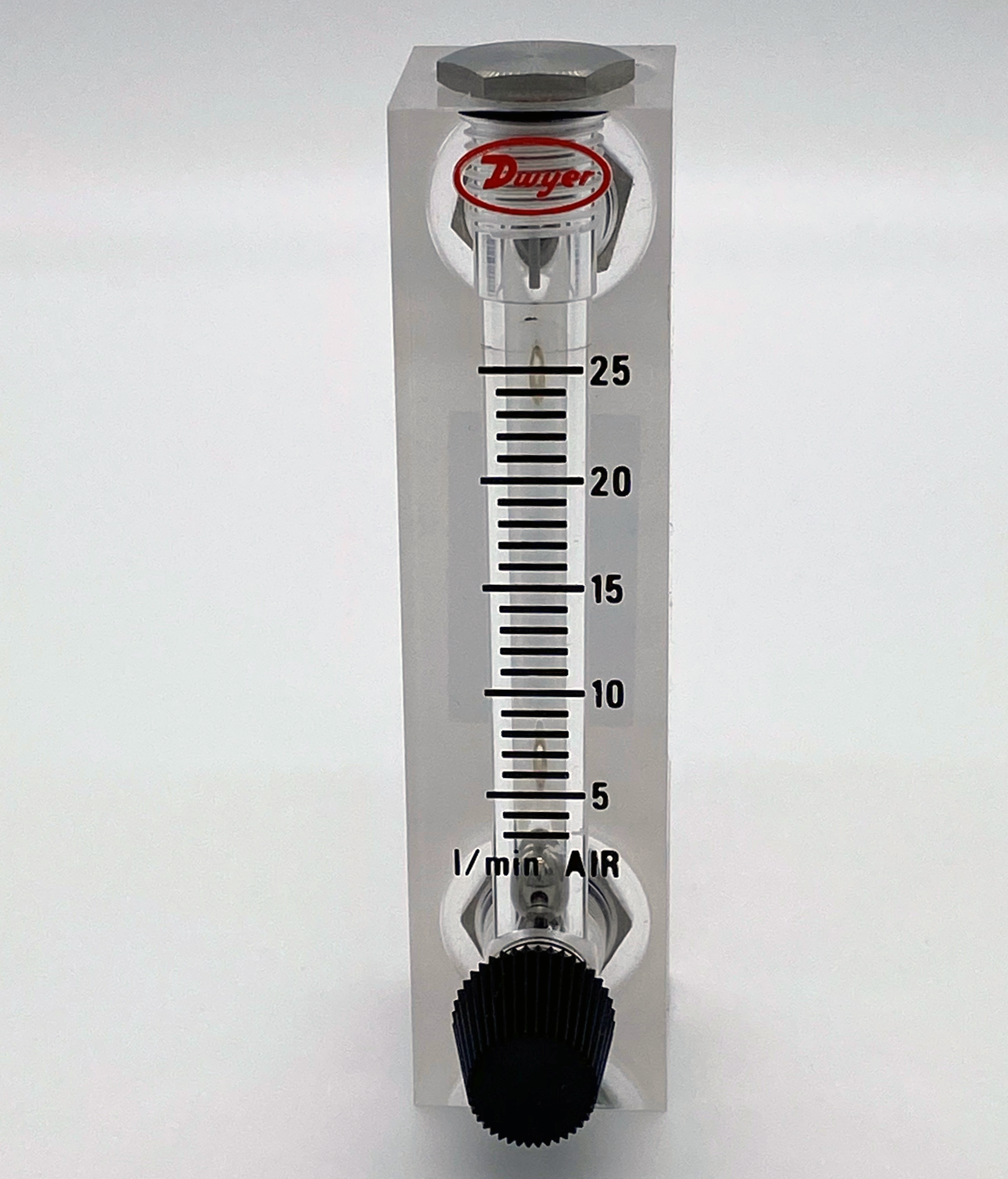 Dwyer Metering Valve
3 to 25 L/min
Specifications
Body
Acrylic plastic
Metal Parts
Brass
Float
Stainless steel
Temp & Pressure Limits
100 psig at 150°F
150 psig at 100°F
Accuracy
VFA: 5% of full-scale
VFB: 3% of full-scale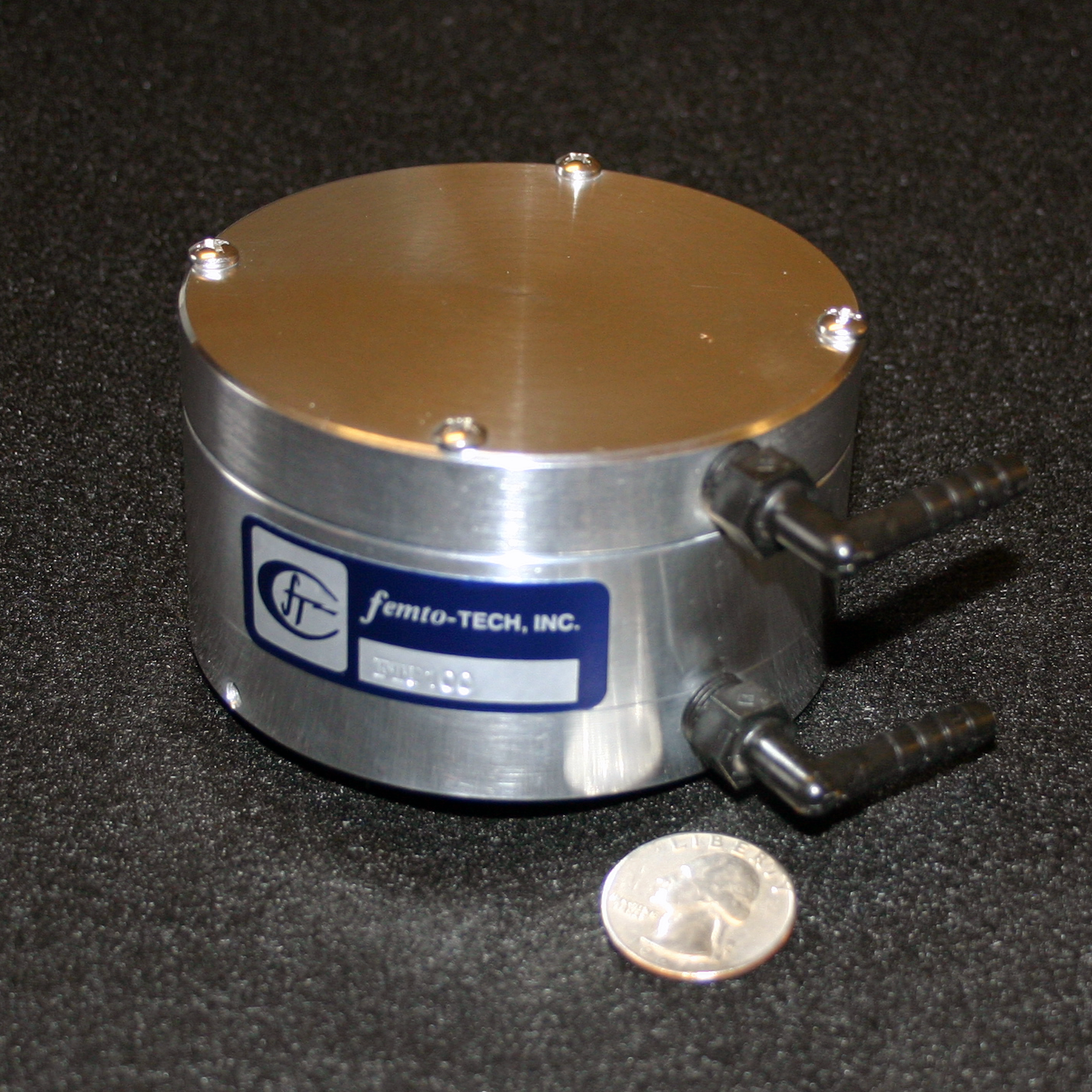 FT100 Filter Assembly
HEPA filter assembly with 99.9% efficiency
Specifications
Material
Stainless steel
Plastic
Filter Material
P100 filter cartridge
The femto-TECH FT100HEPA filter assembly is designed to hold a standard P100 filter cartridge such as the Mine Safety Appliances (MSA®) 815369. Other brand filters with diameters of 2.56" (65mm) across the main body and 2.73" (70mm) across the top edge are acceptable. These filters are effective in removing up to 99.97% of all particulate aerosols including oil-based aerosols under the 42 CFR 84 P100 classification. The assembly consists of two parts. The lid is attached with four (4) 1" 6-32 Phillips head screws. The main body has an o-ring for sealing the lid (1/16" x 2 7/8" x 3" #40) and another (3/32" x 2 9/16" x 2 ¾" #145) for sealing the replaceable filter cartridge. Any label on the side of the filter cartridge must be removed prior to installation in the main body (see picture below). Typically, a standard pair of pliers is required to remove the filter cartridge. Gently pulling on alternating sides eases removal of the filter. The inlet port in the lid and the exhaust port on the main body consist of fine thread NPT tapped holes for barbed 1/8" x 1/4" fittings. The lid may be removed and rotated to any one of the four possible alignments. Four threaded 6-32 holes are available for mounting with four on the bottom (3.25" center to center). Replacement of the filter is totally dependent upon the pumping time, flow, and the amount of contaminants. Either a predetermined schedule, such as once a month for continuous pumping, or by checking the flow rate periodically should guide the user as to how often to change. If the filter becomes restricted, a vacuum will be drawn on the ion chamber. A drop of less than 100 torr will not create a large error in the measured concentration. If an inline rotometer or other control is used to adjust flow, a drop in flow of 5% or greater may indicate the need for a filter change.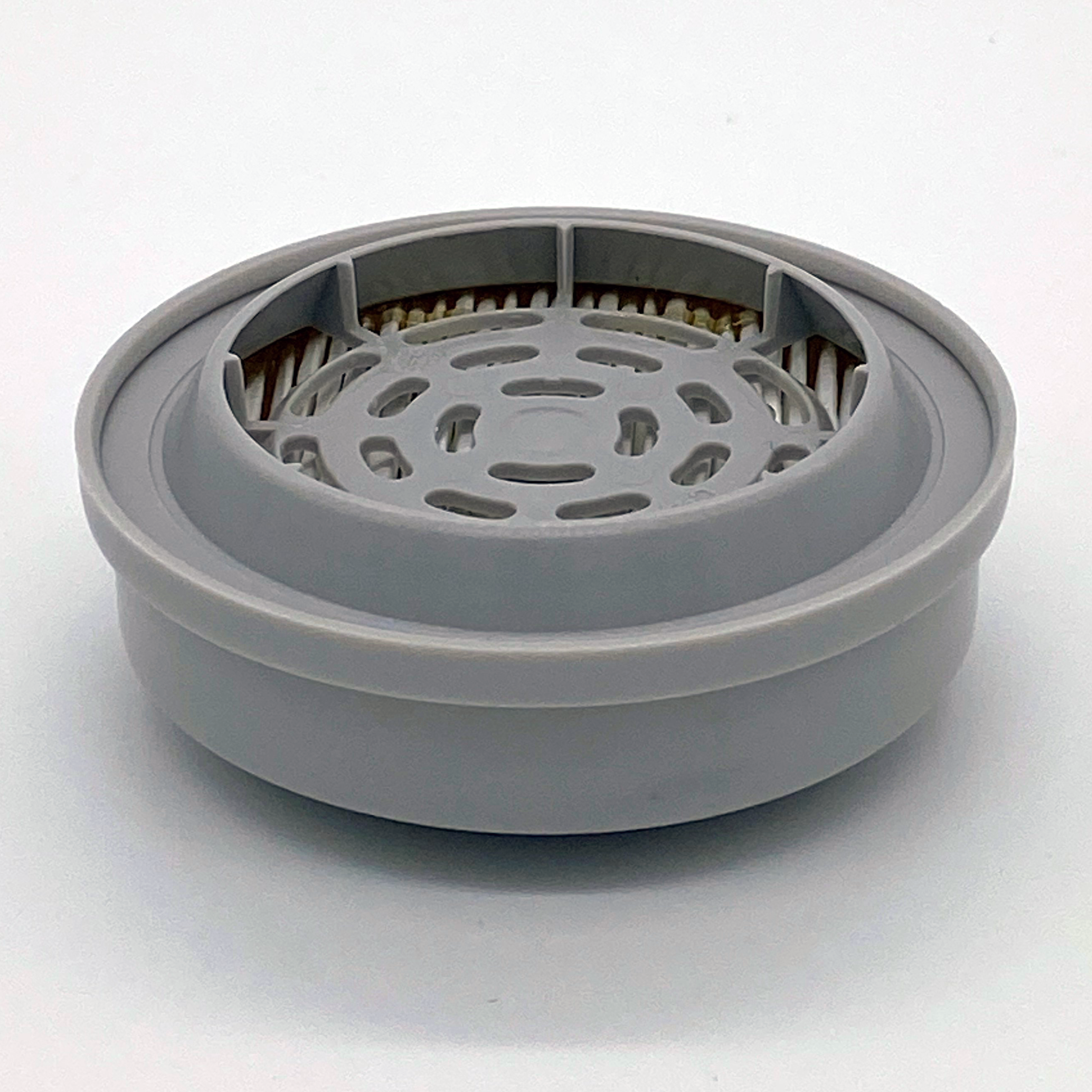 Filter for FT100HEPA
Replacement P-100 HEPA 99.9% efficiency
Specifications
Protects Against
P-100 Particulate
Rating
P100
Cartridge Type
Bayonet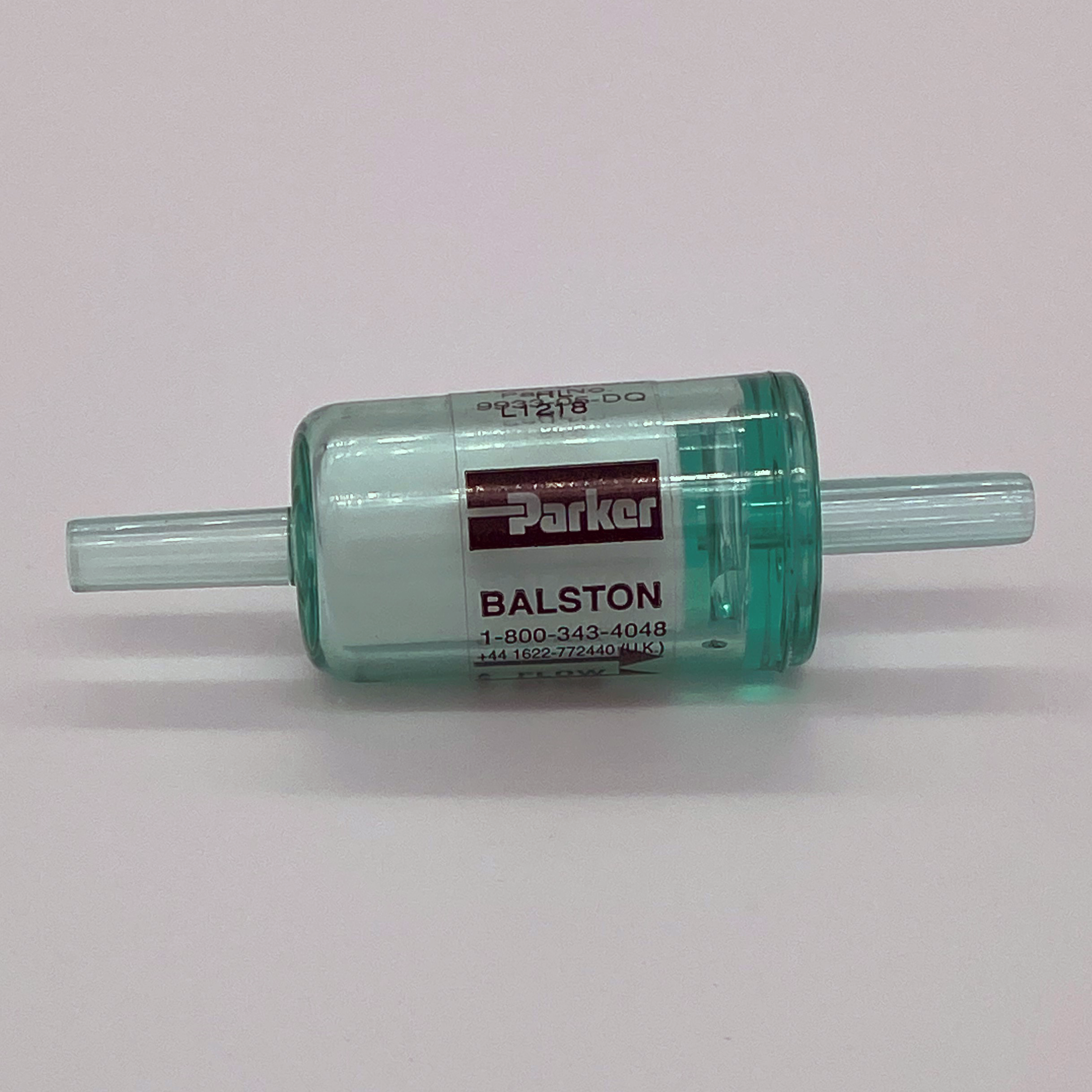 Balston DQ Filter
93% efficiency
Specifications
Material
Nylon
Filter Type
In-Line
Port Size
1/4"
Max FLow Rate
14.1 m³/min
8.3 CFM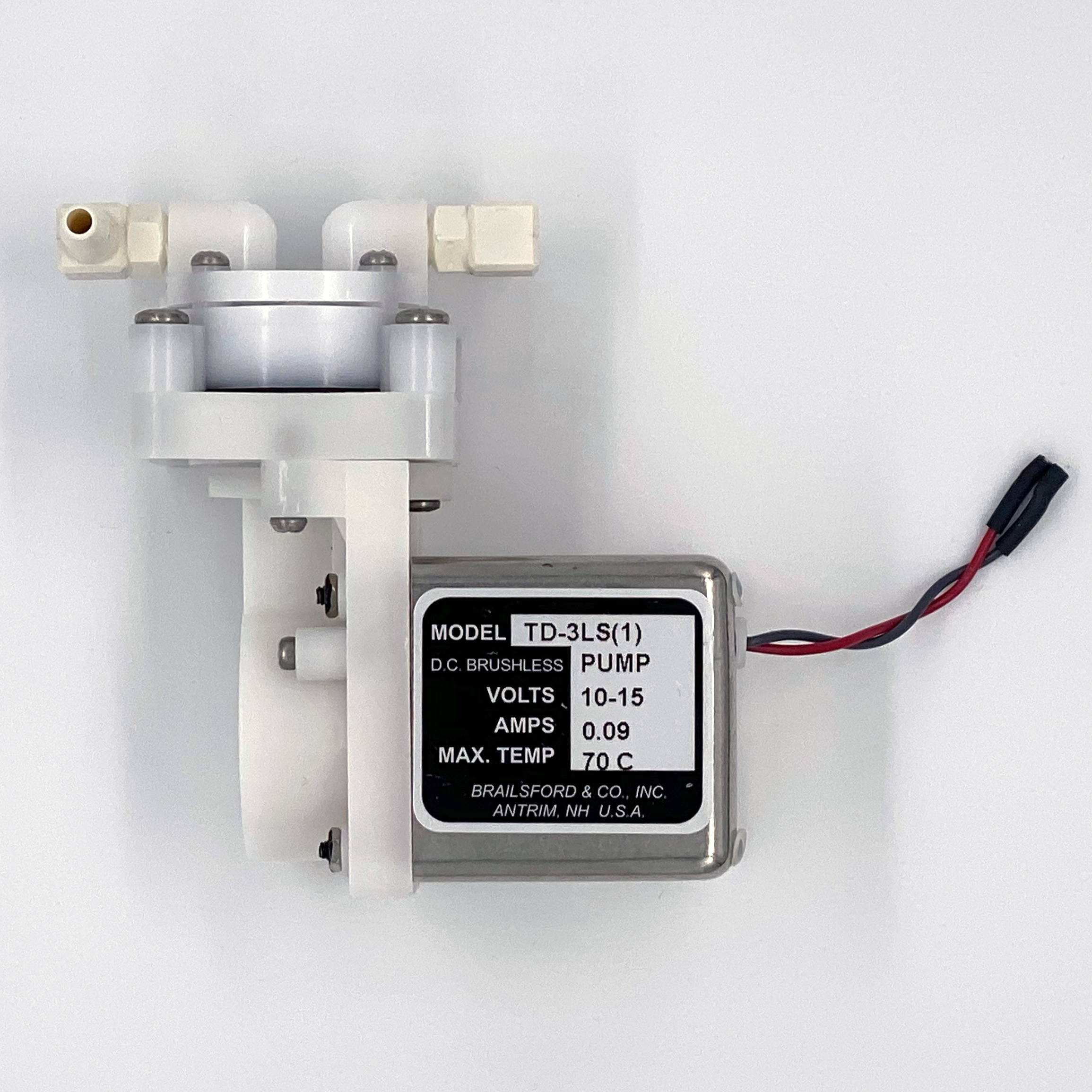 Brailsford DC Pump
Brushless Diaphragm 10-15 DC
Specifications
Power
10-15 VDC
FLow Rate
2-3 LPM
Government Affiliates
United State of America
---
United States of America
---
United State of America
Contact Us
25 Eagle Court,
Carlisle, OH 45005
Phone: (+937) 746-4427
Fax: (+937) 746-9134
Mon - Thurs | 8am - 4pm
Friday | 8am - 3pm